WORK WITH US
Talent comes standard here
Every day, we encourage everyone's professional and personal growth, ensuring them the best opportunities and conditions in which to bring out their potential. With 15 operating offices in the country and many others in the process of being launched, we are always looking for talent
to add to our team, to positively contribute to the energy sector transition in Italy and the world. If you fancy seeing how you fare with innovative projects in an engaging, collaborative setting open to challenges, then you are in the right place.
See job openings
Giulia Merighi

HR Talent Recruiting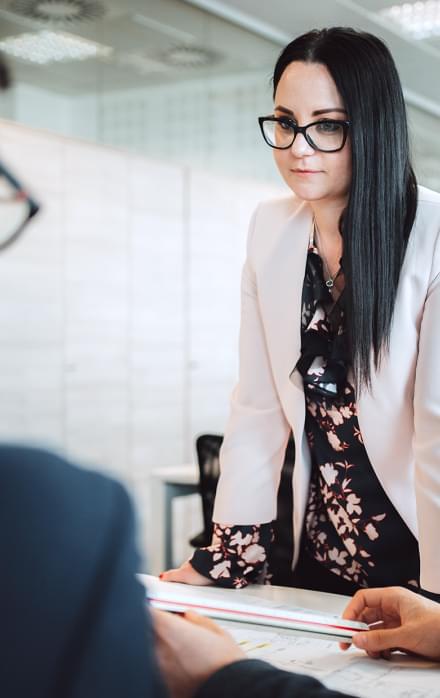 WELFARE
Our Ideal Business Manifesto
We wrote the Seingim Ideal Business Manifesto in 2021 to confirm our commitment to a comfortable, high-quality work environment. This is a collaborative document that was created with the contribution of all our resources and lays down the cardinal points of our welfare and attests to the alliance and shared values between the company and the team Because the most important rules are written together.
Davide Guiotto

HR Manager


Giulia Mattei
"In Seingim I can play my part in the transition towards a greener future for Italy."

Maurizio Spallarossa
"Here, the greatest successes are always the result of great teamwork."

Micaela Biallo
"In Seingim even the youngest resources have the opportunity to work in relevant international projects. Because it doesn't matter the age, but how much you believe in it."

Michele Deolmi
"My job? Much more than sitting at a desk."

Eros Biolo
"Working in Seingim allows me to travel, meet new people and visit cities never seen before."

Erica Vagge
"With all the engineering branches in which Seingim operates, you just need to choose the one that suits you best!"

Mauro Palmisano
"The best thing is that here I grow up every day, putting in practice what I've learned in university."

Francesca Sirch
"Why choose between working and being a mom? Here I can express all of myself with no limits."

Enrico Grosso
"Every day, with my job, I feel part of something really important."

Paolo Napoletano
"In an always growing agency like Seingim, the career opportunities are tangible."
OPEN POSITIONS
To do big things, we need you
Filtra le posizioni aperte per area di competenza o sede operativa:
---
---
UNSOLICITED APPLICATION
Didn't find the position you were looking for? At Seingim, there is always room for talent: fill out the fields below, send us your CV, and tell us why you would like to work with us.
We would like to meet people who are eager to provide the best engineering services with us for an even fairer and more sustainable world.
SUPPLIERS AND COLLABORATORS
Are you an engineering company or a freelancer?
At Seingim we acknowledge the value of collaboration and sharing without borders and barriers. That is why we consider our suppliers, specialists and external companies as valuable resources to achieve everyday goals.
JOIN THE SUPPLIER REGISTER